Top 10 Vehicle Tracking Companies in Pakistan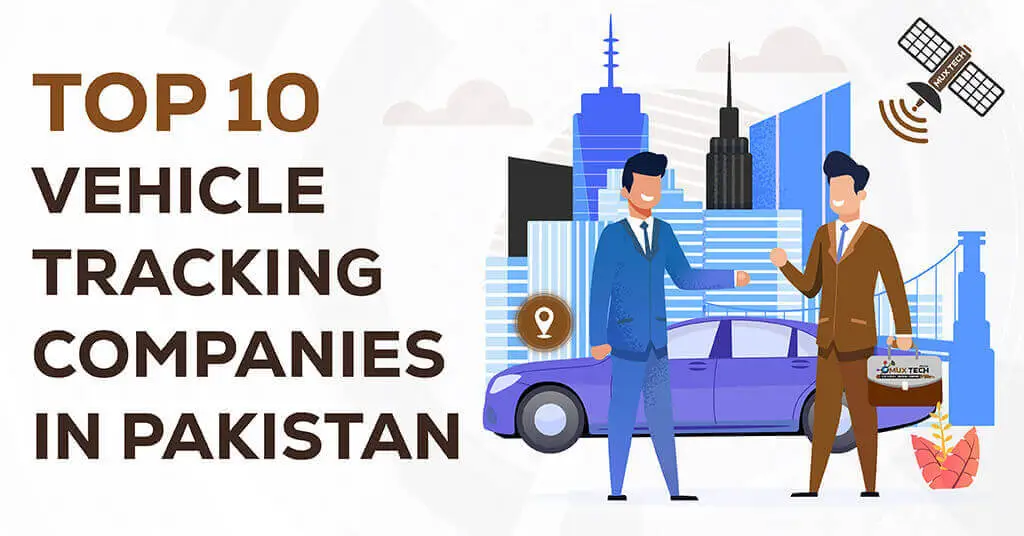 Pakistan's leading vehicle tracking companies offer innovative solutions to address all your tracking-related issues. Now, we will explore the best Top 10 vehicle tracking companies in Pakistan, each providing the best tracking solutions. As we navigate the busy roads of Pakistan, the need for a reliable tracker has never been more important. These companies have proven to be the best companies for tracking in the country and offer state-of-the-art vehicle tracking equipment to give you peace of mind while on the road.
By adopting these advanced tracking solutions, businesses and individuals not only ensure their vehicles' safety but also positively impact the environment and their bottom line. So let's delve into the world of these innovative tracking companies and discover the best vehicle tracking solutions for a safer, more efficient and sustainable country.
Top 10 Vehicle Tracking Companies in Pakistan:
Here are Pakistan's top 10 vehicle tracking companies. Let's review their features and packages in this blog. These companies mainly include:
1. Mux Tech
Mux Tech is Pakistan's Leading car tracking company. They offer top-of-the-line vehicle tracking devices that cater to both personal and commercial needs. Mux Tech is best due to its commitment to accuracy, real-time monitoring and effective route optimization. Their user-friendly app simplifies fleet management for all types of businesses, making it easy and efficient. One of Mux Tech's standout features is the 24/7 call service, which gives vehicle owners instant access to their vehicle location..
Whether you are looking after your personal car or managing a fleet of commercial vehicles, Mux Tech solutions are tailored to your specific requirements. In addition, Mux Tech route optimization technology ensures that your vehicles travel on the most efficient routes, saving you time and money on fuel costs. Their user-friendly interface is designed for ease of access, ensuring that both tech-savvy individuals and those new to tracking systems can easily navigate their systems. Their unwavering commitment to accuracy, real-time monitoring and efficient route optimization has earned them a place among Pakistan's best vehicle tracking companies.
2. TPL Trakker
TPL Trakker's innovative solutions for Tracking provide real-time tracking, speed tracking and efficient route management. TPL Trakker's commitment to reliability and customer satisfaction makes it one of Pakistan's best car tracking companies. Thanks to a robust network of GPS satellites and cutting-edge technology, they ensure absolute accuracy in tracking your vehicles, offering you peace of mind and security.
Whether you are a business owner concerned about the safety of your trucks or an individual looking to secure their personal vehicle, TPL Trakker's comprehensive services have you covered. In addition, TPL Trakker's customer-oriented approach sets them apart. This commitment to service excellence has cemented its position as a trusted partner for management needs of any business.
3. Alpha Track
With more than a decade of experience in the industry, Alpha Track is a trusted edge in the vehicle tracking industry of Pakistan. Alpha Track's unwavering commitment to providing end-to-end vehicle security and monitoring solutions sets it apart.Alpha Track understands that the needs of each vehicle owner are unique and has tailored its services to meet these diverse requirements. They believe tracking should be accessible and convenient for everyone.
Their route management features help you plan the most efficient routes, reducing fuel consumption and operating costs.In addition, Alpha Track's remote immobilization feature adds an additional layer of security, allowing you to prevent unauthorized use of your vehicles in the event of theft or unauthorized access. Alpha Track's vast experience, commitment to accuracy and commitment to user-friendly solutions make them an excellent choice among the best car tracking companies in Pakistan.
4. UTrack
A recognized name in the tracking world, UTrack offers a comprehensive best car tracking solution with a commitment to excellence. With a focus on accuracy and reliability, UTrack vehicle tracking devices provide accurate information about the location and condition of your vehicle.What makes UTrack special is its strong commitment to keeping customers happy.
They have made sure that their system is very easy to use, whether you are a parent who wants to keep your child safe or a business owner who wants to manage their vehicles more efficiently. The UTrack system is designed to meet a variety of needs, so whether it's for your personal use or business needs, it's got you covered. Their goal is to simplify and streamline vehicle tracking for everyone.
5. Falcon-i
As a milestone in vehicle tracking and fleet management, Falcon-i has earned the trust of more than 2,500 satisfied customers across Pakistan. What sets Falcon-i apart is its unwavering commitment to innovation and efficiency. They offer various services beyond traditional tracking, including real-time GPS vehicle tracking, fuel management, route planning and driver behavior monitoring.
One of the Falcon-i's standout features is its warning and notification system, which keeps you updated on the status of your fleet. Whether alerting to unauthorized use or attempted tampering, Falcon-i systems provide instant alerts to help you take immediate action.
Falcon-i devices are designed to be tamper-proof to ensure maximum security for your fleet. They understand the value of your vehicles and assets and their solutions are tailored to protect and optimize your operations.
6. Tracker Zone
Tracker Zone stands out as an affordable, reliable and best car tracking company. Their services include real-time tracking, emergency alerts, and speed tracking of cars, trucks, and motorcycles. What sets Tracker Zone apart is their unwavering commitment to customer satisfaction. They understand that each vehicle owner has unique needs and tailor their tracking solutions accordingly.
Whether you are a business looking to optimize the efficiency of your fleet or an individual trying to protect your family vehicle, Tracker Zone has the perfect solution for you.Tracker Zone not only gives you the tools to track your vehicles, but it also gives you valuable information to make informed decisions about your operations. With Tracker Zone, you're not just investing in vehicle tracking; you invest in peace.
7. Tracking Hub
Tracking Hub is a comprehensive tracking solution provider in Pakistan dedicated to ensuring maximum safety and efficiency of your vehicles. As the name suggests, they are a hub for tracking various valuable vehicle assets and offer a wide range of services beyond traditional vehicle tracking. They specialize in real-time monitoring and handling of vehicle assets, using state-of-the-art technologies such as GPS, RFID, sensors and other tracking devices.
One of the hallmarks of Tracking Hub is its commitment to providing an intuitive user interface or dashboard. This interface allows users to easily access their properties' real-time location, location and status updates. With Tracking Hub, operational efficiency increases significantly, increasing customer satisfaction.
8. Star Tracking
Star Tracking is the best car tracker provider company in Pakistan that focuses on high-quality GPS tracking solutions for real-time tracking.They understand that effective vehicle tracking is not only about technology but also about providing exceptional service.Star Tracking is constantly updating its technology to stay ahead of the industry.
They embrace the latest advancements in GPS tracking and ensure their clients always have access to the most accurate and up-to-date information about their vehicles. With Star Tracking, businesses can increase their operational efficiency, reduce costs and improve customer service, all while having the peace of mind that comes with knowing their vehicles are being tracked by one of Pakistan's leading vehicle tracking companies.
9. Jazz Tracking
Using the latest GPS technology, Jazz Tracking allows individuals and businesses to track their vehicles in real-time, track their movements and optimize their routes. In addition to its robust features, such as location tracking, speed tracking and fuel monitoring, Jazz Tracking goes the extra mile to ensure maximum vehicle safety and security.
Their automatic warning system provides real-time alerts in the event of an emergency or unexpected event, increasing the overall safety of your fleet. Whether you are involved in fleet management or logistics operations, Jazz Tracking's comprehensive solutions can significantly improve efficiency and safety in the transportation industry, making it a trusted choice for vehicle tracking in Pakistan.
10. Geo Track
Geo Track, provided by GeoVision Technologies, is a complete vehicle tracking solution. It comes with advanced GPS technology to ensure accurate and reliable tracking information. Geo Track offers instant location updates, helps you find the best routes, tracks speed and helps manage fuel consumption. It is designed for both personal and business use, making it a cost-effective and reliable choice for tracking your vehicles.
What sets Geo Track apart is its commitment to environmental sustainability. GeoVision Technologies has incorporated eco-friendly features into its tracking systems in an increasingly carbon-conscious world. Geo Track's innovative driver behavior analysis supports responsible driving habits, reducing fuel consumption and vehicle wear and tear.
Conclusion
As you consider the options these remarkable companies offer, imagine a future where your vehicle's safety is guaranteed, real-time monitoring is at your fingertips, and your journeys are smoother and more efficient. Imagine a world where worries about vehicle theft and unauthorized use are a thing of the past. So take a step towards a safer and more secure future on the road. Choose from Pakistan's top 10 vehicle tracking companies and embark on a journey where your vehicle is never out of sight and your peace of mind is always within reach.